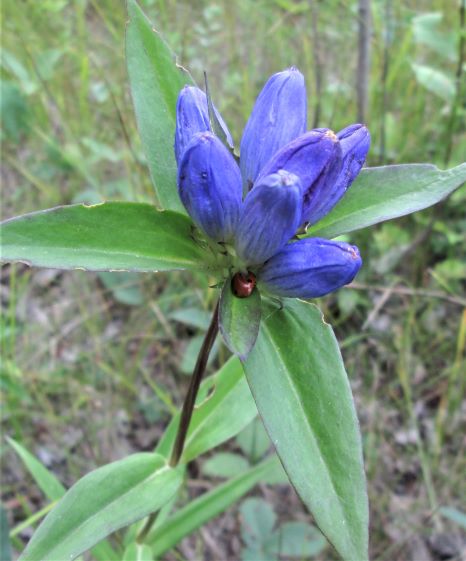 CLOSED or BOTTLE GENTIAN (Gentiana andrewsii)
Tubular royal blue to purple flowers develop in small terminal clusters and leaf axils. The flowers never open, hence the name bottle or closed gentian. Well-spaced pairs of thick, shiny, stalkless leaves have a deep crease down the middle, making the plants very distinctive and easy to identify even when they aren't flowering. Interestingly, the flowers are often visited by bumblebees, which are one of the few insects strong enough to pull the pleated petals apart to get inside.
Grows with many-flowered aster, smooth camas, New England aster, obedient plant, turtlehead, cord grass, northern reed grass, tufted hairgrass, and shrubby cinquefoil.
Flower Colour: blue/purple
Sun Exposure: full sun to part shade
Bloom Period: August – September
Height: 1 – 2 ft
Soil: moist – wet